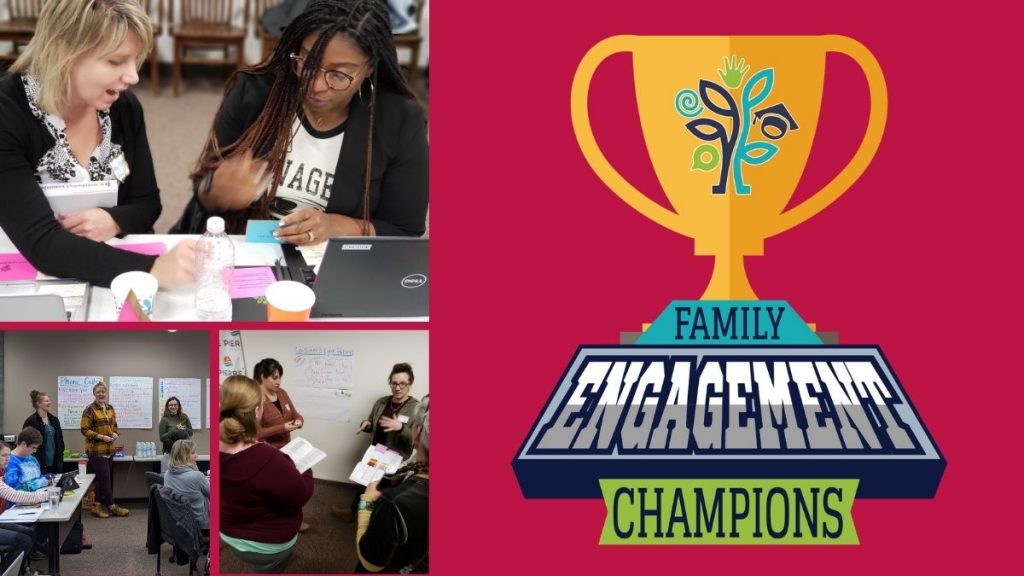 The South Dakota Statewide Family Engagement Center (SFEC) has announced the participants for its second cohort of Family Engagement Champions.
About the Family Engagement Champions Program
Over the course of five months, this cohort of school staff from across South Dakota will convene to learn about the power of true school and family partnerships, reflect on current practices in their work environments, and create activities that facilitate school, family, and community engagement. Participants will grow to become Family Engagement Champions, while creating lasting and professional friendships with other cohort members. For more information, go to sdsfec.org/fechamps.
The following educators have been chosen to participate in the Spring 2021 Cohort of Family Engagement Champions:
Tri-Valley School District (Colton)
Casey Elder, Keeley Kotula
Flandreau School District (Flandreau)
Iroquois Elementary (Iroquois)
Heidi Stroud, Sara Heffner
Mobridge-Pollock Upper Elementary (Mobridge)
Jessica Plfiger, Jody Kludt
Dakota Valley Middle School (North Sioux City)
Kelli Tuttle, Linda Steele
Georgia Morse Middle School (Pierre)                                               
Kyley Cumbow, Alana Traversie
Joe Foss at Axtell Park (Sioux Falls)
Tyler Engelson, Dawn Johnson
O'Gorman Catholic Schools (Sioux Falls)
Edwin Fink, Megan Staebell
Roosevelt High School (Sioux Falls)
Nicole Fette, Marta Roberts
Sturgis Elementary (Sturgis)
Melissa Pankratz, Lyndee Fogelman, Angie Langenfeld
Timber Lake Elementary (Timber Lake)
Danae Paxton, Jennifer Schoelerman, Alision Nilson
Roosevelt Elementary (Watertown)
Heather DeBoer, Kelsey Popham
Watertown High School (Watertown)
Michelle Mehlberg, Stephanie Hageman
Wolsey-Wessington School (Wolsey)
South Central Child Development (Wagner)
Jessica Schulte, Courtney Brink