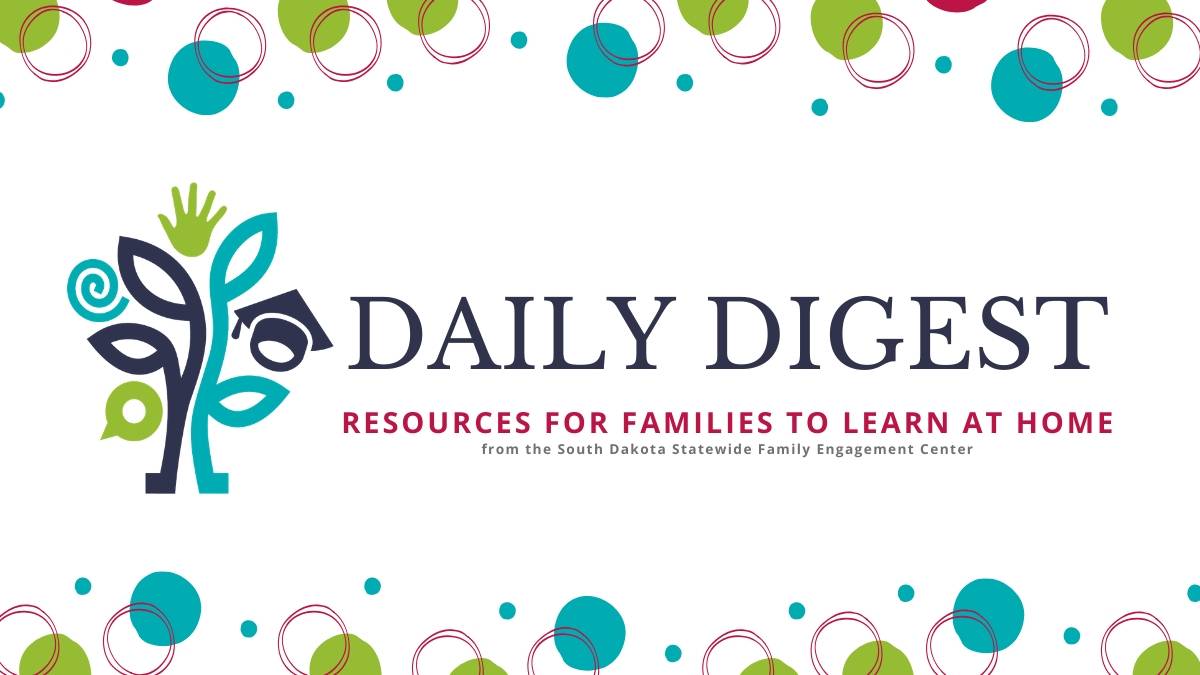 With schools cancelled across South Dakota, families are now being asked to guide and support their child's education at home. While there are many resources, apps, and tools available, parents and family members have expressed feeling overwhelmed in their home learning adventures. 
The South Dakota Statewide Family Engagement Center (SD SFEC), with the help of the Community, Family, and Special Services Division of Black Hills Special Services Cooperative, is creating a daily, simple and useful tool to help families feel prepared to support their children in learning at home. Each day, SD SFEC shares a Daily Digest. This short guide highlights quick and easy activities and free resources that families can use to engage their children in learning while they are home.
The Daily Digests include virtual tours, ways to celebrate the day, physical activity ideas, online learning opportunities for students, and links to resources for parents and caregivers.
Additionally, SD SFEC is honoring South Dakota with daily lessons about unique locations across the state. The Daily Digests include a Road Trip Across South Dakota section, which features a new stop each day for kids to explore and learn about places in South Dakota, like Badlands National Park and the Dignity statue near Chamberlain.
SD SFEC Program Director Morgan VonHaden says, "This is an amazing opportunity to share great, easy-to-use resources that our team members have used with their own children or shared with other family members; additionally, links to virtual tours help students and families experience areas they are unable to travel to during this time."
The SD SFEC Daily Digest is published each day and sent out to subscribers through email. Families can also access the Daily Digest on our Facebook page at SFEC South Dakota. To join the list of daily email subscribers, go to sdsfec.org/newsletter. The SD SFEC team is compiling home learning resources, as well as previous Daily Digests on their website at sdsfec.org/homelearning/. The goal of the SD SFEC is to help families feel confident and be prepared to support their child's learning at home–both during the COVID-19 outbreak and long into the future.
###
CATEGORIES
Birth to Five, College & Career, K-12
Tags
Home Learning
Includes Home Learning Daily Digest
We would love to know your thoughts & comments!